ON 4TH JAN 2022, vice chancellor of JNU ,Mr. Mamidala Jagadesh Kumar appointed as the chairman of UGC.
Through this article lets know what is UGC,its role in shaping our educational system and how it is contributing in th educational sectors.
Nelson Mandela once said that education is a weapon that can change the entire world and he said true.

India is well known for its knowledge in different fields. India's higher education system is something the world's fond of. From ancient to modern India, Takshila, Nalanda, Vikramshikartc to Aims, IITs, IIMs of India, India's higher education system is always praised worthy and instances have happened where students have shown the world their potentiality. NASA has the maximum number of scientists as Indians, scholars from Aims, IITs have been working with and at the international level.

UGC
University grants commission that is popularly known as UGC is the statutory body that works for the improvement and betterment of higher education in India. UGC is the apex body whenever it comes to education-related matters. Since UGC is a statutory body UGC enjoys some powers.

History of UGC
UGC was initially formed in 1945, with the main to look and manage the education system in Aligarh University, BHU, and Delhi University.
1949, the recommendation made under the chairmanship S.Radhkrishnan and UGC asked to report with full details and steps taken education sector.
With time in 1952, the government decides that UGC will handle all the grants to universities and higher educational institutions. UGC was assigned big responsibility.
And in 1953, an inauguration by Dr. Abdul Kalam Azad was done making it official.
1956, an act passed in parliament, and UGC was made a statutory body.
UGC has 6 regional centers-Pune, Hyderabad, Kolkata, Bhopal, Guwahati, and Bangalore. These all branches work under the guidance of UGC.
UGC is accountable for all the reforms made in the education sector.
The headquarter of UGC is at new Delhi den 2017,d p Singh was appointed as the chairman of UGC for a period of 5yrs who also happened to be the former director of the national assessment and accreditation council (NAAC).

Types of universities under UGC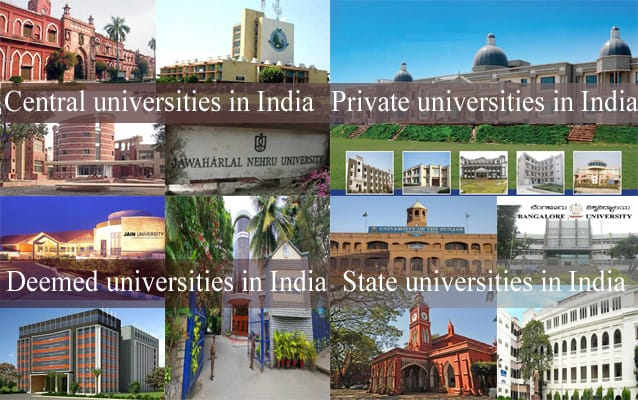 CENTRAL UNIVERSITIES set up by the act of parliament. Under the ministry of education. Right now 49 central universities are recognized by UGC.
STATE UNIVERSITIES run by state set by the act of local assembly bodies.
DEEMED UNIVERSITIES are those universities that get the recognition as universities only on the advisory of UGC.
PRIVATE UNIVERSITIES –they can grant degrees but are not allowed to have off-the-campus affiliations.
Role of UGC
UGC looks into the matters of higher education in India.
UGC makes time to time framework to revise the current syllabus.
UGC also organizes job fairs and skill seminars.
UGC has introduced many courses apart from the core subjects.
UGC is responsible for promoting coordination. UGC also ensures transparency among the universities.
UGC ensures that the future of the students is not hampered at any cost. UGC ensures that no injustice should be done to any student despite their background.

UGC sets standards for conducting fair examinations.
UGC allows grants to colleges and universities.
UGC time to time gives advice and suggestions to both state and union governments so that necessary changes can be done in the education system.
UGC has launched many scholarships for different categories of students. UGC ensures that no child should be deprived of education. UGC provides monetary supports to the students.
Recently UGC has declared 24 universities as fake.
Future of UGC
In 2018, the government announced its intentions to appeal the UGC act and propose to replace it with the higher education system of India act.
its responsibility would be to bring major reforms in the educational sector.